American Promotional Products
American Promotional Products offers a professional and reliable service for the procurement of all your business gifts, promotional products, and incentive programs from artwork generation through to sourcing, production and distribution. Promotional items and business gifts are the most cost effective way of promoting your company and, as a leading supplier, we have thousands of corporate gifts and marketing merchandise ideas available. We are proud to provide the fastest and most reliable service for all your corporate branding and swag requirements. From product launches to Christmas gifts to conferences and trade shows - we aim to provide the best promotional products and designs while maximizing and meeting your budget.
Feel free to contact us at American Promotional Products with your requirements or to arrange a no obligation consultation with one of our representatives.
Promotional products recently shipped to the following cities:
New York, Los Angeles, Springfield, Houston, Dallas, Boston, Tempe, New Orleans, Bismarck, Seattle, Chicago, Phoenix, San Antonio, San Francisco, San Diego, Modesto, Denver, Washington, Indianapolis, Sacramento, Miami, Sioux Falls, Tampa, Cincinnati, Irvine, Richmond, Jacksonville, Denver, Columbus, San Jose
Featured Item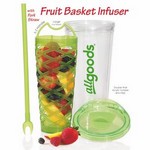 20 Oz. Fruit Basket Infuser Tumbler
Fruit Basket Infuser double wall acrylic Tumbler with fork straw. Bring out the best in your company's presentation and logo. Great for High Schools, Colleges, Cheerleading Camp, Dance Studios, Sport ...